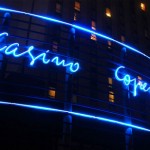 When touring Scandinavia people never forget to visit Denmark. Given the chance, I too would love to stopover at the home of the Danes to experience their culture. Aside from the fact that I'm a fan of Danish goods, I've heard of so many interesting places to go to when touring the country.

My curiosity got the better of me, so lately I've been obsessing about actually going there so I can experience firsthand the things I only browse on the internet. Virtual travel is not as satisfying, of course. With the help of Denmark's tourism website VisitDenmark an itinerary was mapped out. Just imagining the scenic spots and amusing activities I'll do once I get there fills me with excitement.
Without further ado, here's my Denmark bucket list:
1. Spend one night at the Casino Copenhagen. Why there, specifically? If you're not aware yet of the fact, winnings in this casino are tax free. More dough for me. Although of course, the thrill of gaming cannot be quantified. I'll dress up real nice, in the likes of James Bond, and walk with swag because I'll most likely be there only once. When I face that poker table I'll conjure an image of Danish poker legends Gus Hansen (four-time World Poker Tour winner) and Peter Eastgate (2008 World Series of Poker Main Event Champion), then pray that I get to use their strategy and skill so I can also win big. Well, maybe not necessarily compete in the big leagues right away. I'd still have to practice more over at Partypoker, every night if that's what it takes, so I can master the rudiments of the game. We'll never know. Maybe with constant participation in online tournaments I'll get myself a seat on the World Poker Tour. But, baby steps first. Practice.
2. Set free the child in me by fooling around in the many amusement parks Denmark offers: ride the Demon, the Golden Tower, and the Vertigo at the Tivoli Gardens; try about half of the approximately one hundred fun rides in Bakken, which is known as the oldest amusement park in the world; visit the Legoland, because Legos are among my first toys and it'll be fun to see the stuff again; and, get on the longest roller coaster in Denmark at the Djurs Sommerland. Yeah, that's a handful.
3. After catching my breath from all that playing, it's time for a subdued day dedicated to culture. They said the ARoS Aarhus Art Museum is ideal for this. Described as "a 5 star museum… and one of the largest museums in Northern Europe" by VisitDenmark.com, it also features international art exhibits. For outer space and celestial displays I'll drop by The Round Tower, an ancient observatory dating back to the 17th century. The ultimate immersion, of course, is to hang out in a neighborhood bar and talk to locals.
My list only contains three items so it's highly probable I'll get them all done. What's your travel bucket list?