30 Oct

What does Jefté mean?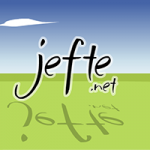 Jefté (esp) or Jepthah (en)

Jepthah (also spelled Jephtha or Jephte; Hebrew: "Yiftha"; Latin: Jephte) was a biblical figure in the Old Testament.
Japheth (yod peh tav) is the 11th from Adam and Jephthah (yod peh tav chet) is mentioned in both Judges 11 and Hebrews 11. Which, incidentally, if we break down the Hebrew we find the root of the word Jephthah is: petach, to open. Petach is a Pey KeyWord, and Pey literally means "mouth". So Jephthah literally means, "he opened".

The Book of Judges outlines that Jepthah served as a judge over Israel for six years in Gilead. The account of Jepthah places us in a time where Israel had many neighboring tribes and nations all waging war over land borders (not much has changed since then). In fact, the bible mentions that Jepthah was, "a mighty warrior" or "mighty man of valour". That "He devastated twenty towns" while commanding the armies of Israel.
However, this story is not one of military conquest, it is not an simply an accounting of how Jepthah defeated the Ammonites. Rather, it is poignant message that we should be quick to thought but not words. This is a message not lost on us today. Too often we fall into the trap of rapidly typing or tapping our stream of consciousness into whatever text or email we send. We no longer ponder the severity of our words or the repercussions they bring to our haste-filled, wired, always-connected lives.
So what did Jepthah do that was so bad?
Jepthah hastily vowed an oath in return for his victory against the Ammonites without fully considering the consequences:
And Jephthah vowed a vow unto the Lord, and said, If thou shalt without fail deliver the children of Ammon into mine hands, then it shall be, that whatsoever cometh forth of the doors of my house to meet me, when I return in peace from the children of Ammon, shall surely be the Lord's, and I will offer it up for a burnt offering.

So Jephthah passed over unto the children of Ammon to fight against them; and the Lord delivered them into his hands.

And Jephthah came to Mizpeh unto his house, and, behold, his daughter came out to meet him with timbrels and with dances: and she was his only child; beside her he had neither son nor daughter.

And it came to pass, when he saw her, that he rent his clothes, and said, Alas, my daughter! thou hast brought me very low, and thou art one of them that trouble me: for I have opened my mouth unto the Lord, and I cannot go back.
A man of his word, Jepthah quickly realizes the severity of his oath and the mandatory compliance of his vow. After all, a promise is a promise. Scholars still debate the meaning of "burnt offering" but it is widely accepted that Jepthah's daughter was not actually killed; but rather remained chaste for the remainder of her life.
Knowing the account of Jepthah, and the literal translation of his name – it is striking to find him saying "I have opened my mouth." But then again, maybe God knew he would do just that.